Customer Reviews
Write a Review
Ask a Question
12/14/2020
Miranda

United States
I recommend this product
Cats & Moons
love this industrial bar had to review it again and show off the pic I took with it it's just absolutely purrrfect for people who love moons and cats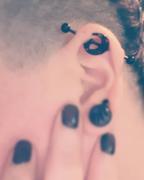 12/15/2020
Ouferbodyjewelry
It fits you so well, amazing it is!! I evenly want to show it to our customers!
09/26/2020
Miranda

United States
I recommend this product
Love it
really like this industrial bar I love black cats and moons so this one suits me lol the charm goes over the top part of my ear since I have a small ear so it doesn't go under the fold like in the picture but still its a very cute bar and very comfortable definitely recommend for and cat and moon lover like me
09/27/2020
Ouferbodyjewelry
Thank you for your comment. To bring our customers the best usage experience is our best pursue. Wish you a happy life!
12/23/2021
Hana P.

United States
These are the standard sizes used for each piercing in body jewelry. Please note that we cannot guarantee that this is the size used for YOUR piercing. These are the standard gauges and lengths used by professional piercers. Everyone's body is different, and sometimes piercers will use different lengths and gauges depending on your body and the type of jewelry you want to wear.